The collaborative platform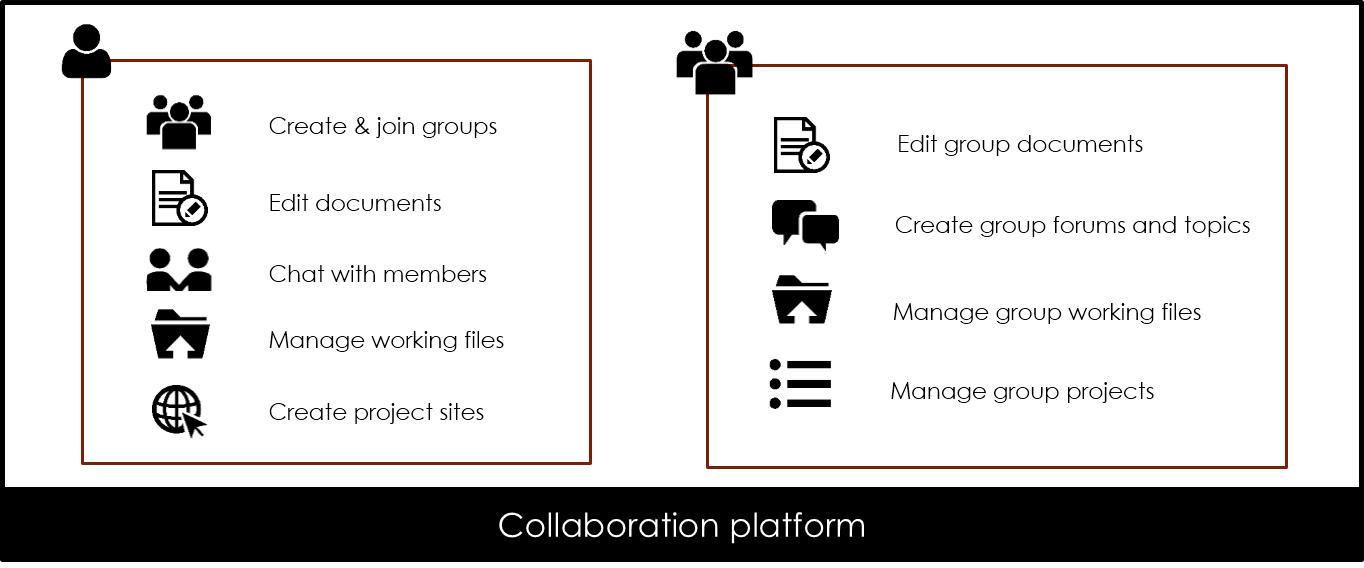 Groups
Each member can create and join a group to share content between users.
Documents
User can create, edit documents and manage authorizations (read/write/group).
Files
A deposit files is available. It's possible to upload files like pdf or image to share them with other members or groups.
Forums
Each group have its own forum where each member can create topics : a good solution to exchange ideas or ask a questions to your community.
Projects
Projects can be created inside a group to manage to-do lists. These tasks can be attributed to group members.
---
The instant collaboration portal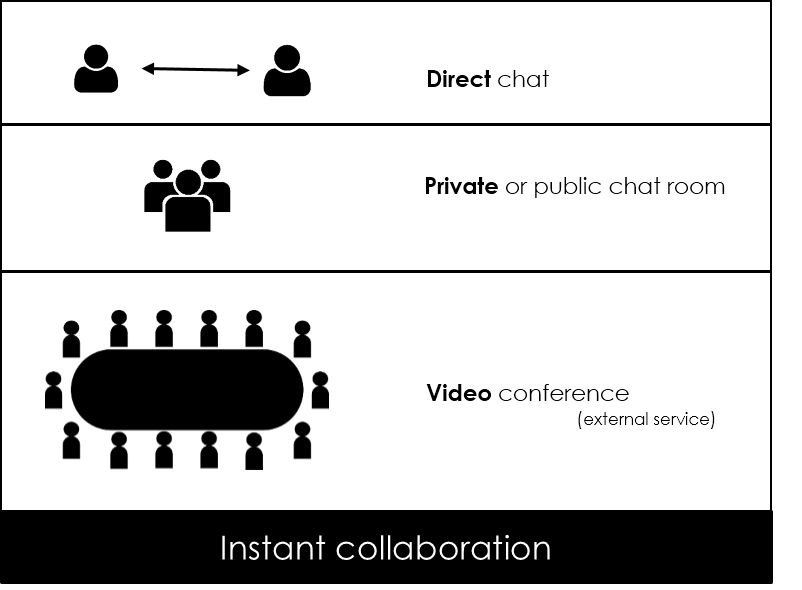 The chat rooms
Each user can join a public room, create a private room and invite users.
The direct chats
This feature provides a private conversation between two users. It's possible to send encoding messages.
The video conferencing
It's possible to create a video conferencing inside a room or a private chat. This last is powered by jitsi meet servers.
---
The project manager platform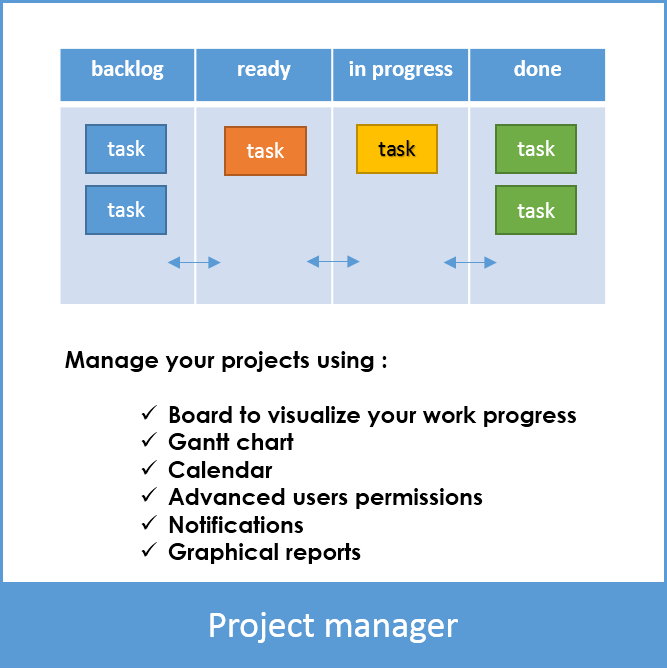 The tasks manager with Kanban
This service provides project management by dividing the tasks within a kanban (board). Each task will evolve horizontally in this board.
The system allows better tasks visualization.
The Gantt chart
A Gantt chart is available in a project. In addition, each task can be resized directly in this chart to easily manage tasks over time.
The permissions
Each user chooses to share a project with users or groups in the system. Added users can be a single member or manager. A public sharing of kanban is also allowed.
The notifications
In user profil, you can choose between notifications by email or web. In addition, user can choose the types of tasks that activate notifications (user assign user tasks, specific project, etc.).
The activities report
Reports and graphs of a project can be viewed to see the progress of tasks in the kanban.
---
The data access platform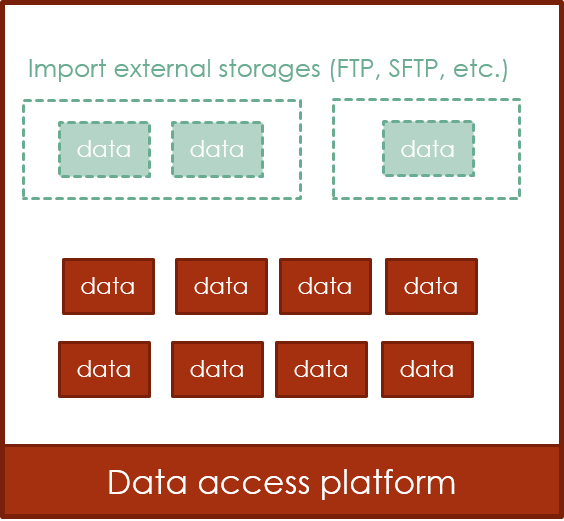 Storage
This web service allows to upload and access to scientific data.
Sharing
Functionalities are provided to share files or directory with internal member or through a public link.
External
This service allows external storage importation without duplication for several servers (FTP, SFTP, etc.)
Access
Service is accessible with a desktop client and smartphone application.
---
The scientific data sharing platform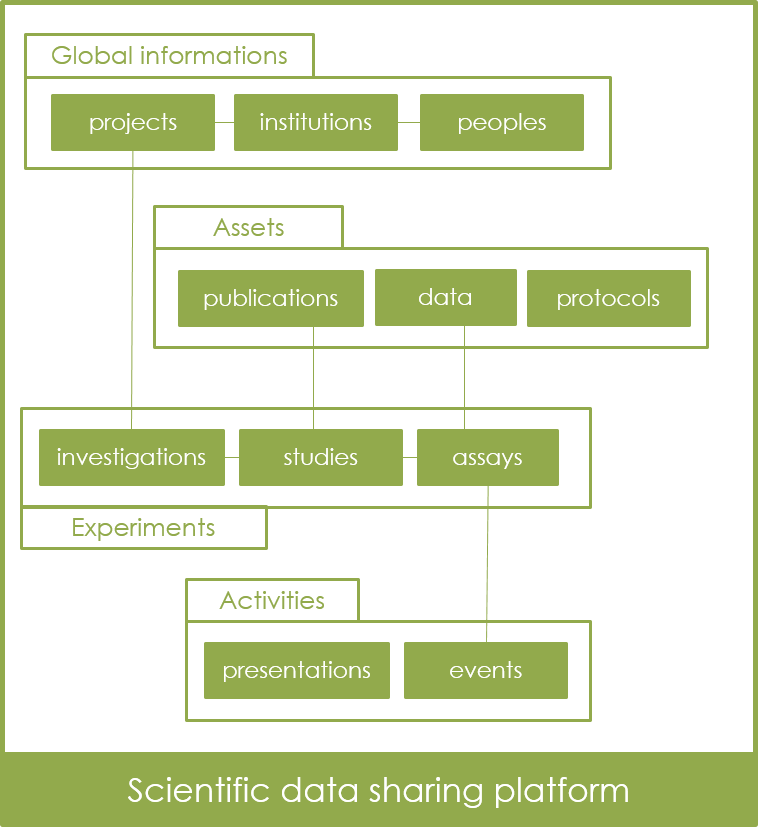 The content
This web service allows to upload content in relation with the scientific research (e.g. publications, protocoles, projects, institutions, etc.) and to create associations with experimental informations.
The ISA architecture
ISA = Investigation, Study, Assay
This service allows to store experimental informations using ISA-Tab architecture.
FAIR data
FAIR = Findable, Accessible, Interoperable, and Re-usable.
The aim is each data must respect these four terms. This service answers to these questions by attaching data with experimental informations.
Data
Data can be imported in the website or can be defined by url; a combinaison with data access platform is possible.
The sharing
Through a full policy manager, scientific research can be share for the community; it's the open-data.
---
For using CeSGO services, you must have a GenOuest account.