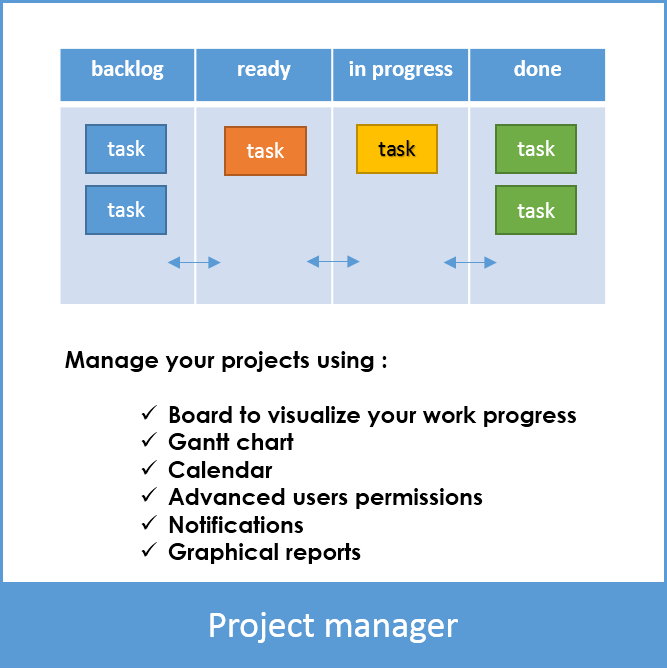 ---
The tasks manager with Kanban
This service provides project management by dividing the tasks within a kanban (board). Each task will evolve horizontally in this board.
The system allows better tasks visualization.
---
The projets types
There are two types of projets :
The private project
This type, proposed as a default project, is limited to the creator. The user will be the only one to created tasks.
The 'collaborative' project
This type allows to manage a projects with others. If you don't have the capability to create this type of projects, please send a message to  support@genouest.org.
---
The Gantt chart
A Gantt chart is available in a project. In addition, each task can be resized directly in this chart to easily manage tasks over time.
---
The permissions
Each user chooses to share a project with users or groups in the system. Added users can be a single member or manager. A public sharing of kanban is also allowed.
---
The notifications
In user profil, you can choose between notifications by email or web. In addition, user can choose the types of tasks that activate notifications (user assign user tasks, specific project, etc.).
---
The activities report
Reports and graphs of a project can be viewed to see the progress of tasks in the kanban.
---
Videos
Part 1: Project and tasks creation
Link: CeSGO projects
Online:
Part 2 : Creation of swimlanes / columns and automatic actions usage
Link: CeSGO projects advanced
Online: